Shilpa Garg writes about her storytelling session on
her blog
. A former pharmaceutical professional-turned-soft-skills facilitator for corporates, Shilpa Garg blogs at
A rose is a rose is a rose!
I came to know about Pratham Books when I participated in the
IndiBlogger contest
in July this year.
Pratham Books
is a non-profit trust that publishes high quality books for children at affordable prices and in multiple Indian languages. Pratham Books
' dream, to see "A book in every child's hand", resonates with me.
When I read about Pratham Books' Champions program where volunteers are encouraged to conduct reading sessions, I knew I had to be a part of this initiative. The idea was to take 1 book, 1 story to as many children possible on a single day throughout the country. For this initiative, more than 600+ Champions registered to conduct 1000+ storytelling sessions to celebrate International Literacy Day.
I registered for this program and soon I received mails sharing the guidelines and suggestions along with ebooks, and a courier containing the books and a banner.
I met the Principal of Indo Bharat International School, which is located near my home. I shared the program's concept and design with her and she readily agreed.
With a spring in my step, I reached the school to share the story of Paplu, the Giant, with the kids. I was greeted by equally excited some 60 children from class Nursery to Class III.
I narrated the story of 'Paplu, the Giant' (written by Ramendra Kumar and illustrated by Zainab Tambawalla), in Hindi. It is a delightful story about a little giant who did not like to fight with anyone!
The children listened to the story with rapt attention and were a perfect audience. I loved the way they responded in a chorus and in a sing song manner to every question of mine. Their enthusiastic 'Good Morning Ma'am' made my day.
To see, if they were following the story, I asked them questions and they had all the answers.
There is a magic verse in the story, "Main tumhe uchalu, main tumhe pakar loon, bhoolna na tum mera jadoo" (I'll throw you up, I'll catch you quick. Don't forget my magic trick). I made the kids repeat this verse and they simply loved saying it aloud. This little one raised his hand and said, "I would like to repeat the magic words on my own". His recitation received a big applause from all the students and the teachers.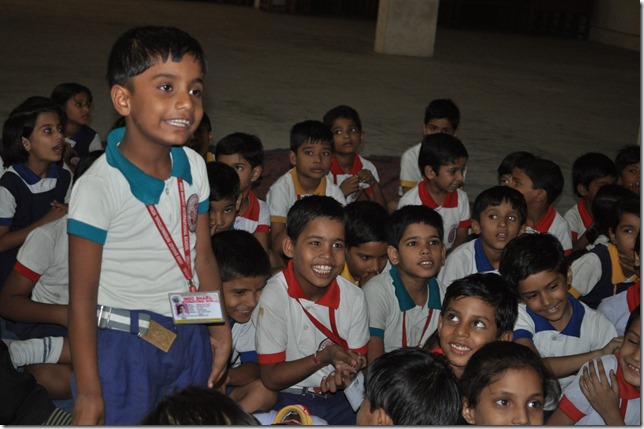 The pictures below share the rest of the story…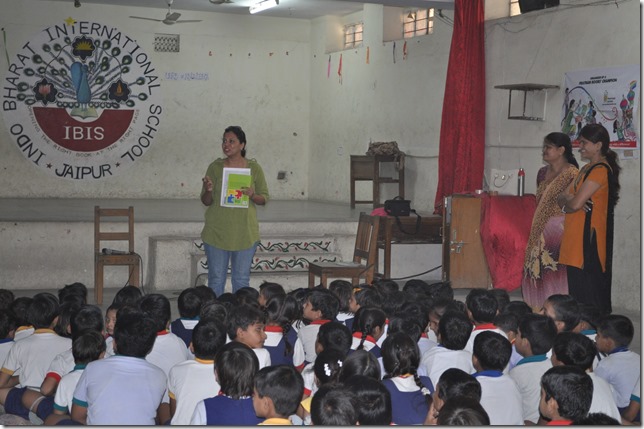 Story telling in action…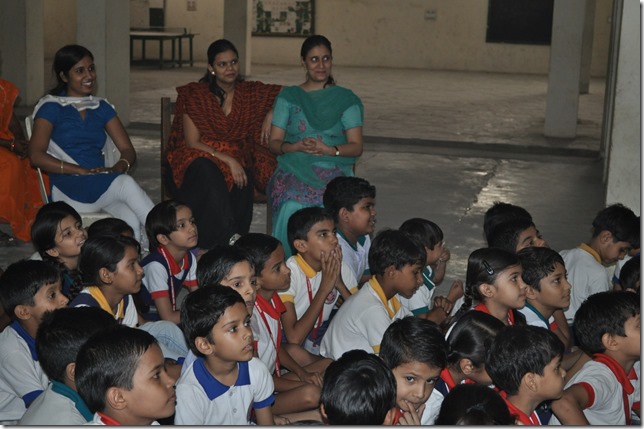 Looks like the teachers enjoyed the story too…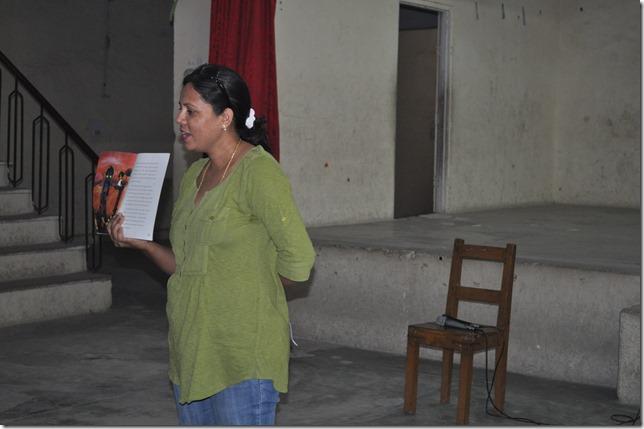 Showing them Paplu's new dress.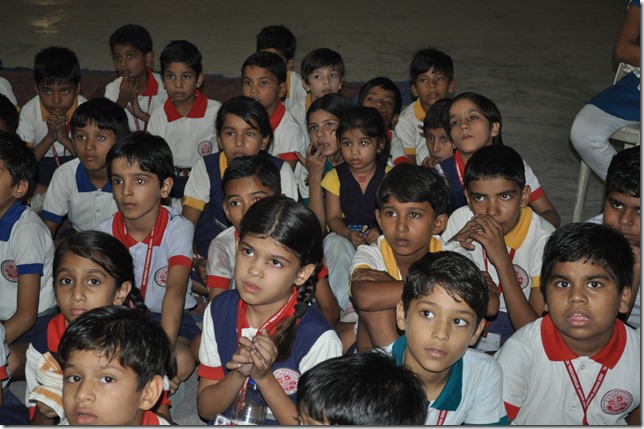 Listening with rapt attention.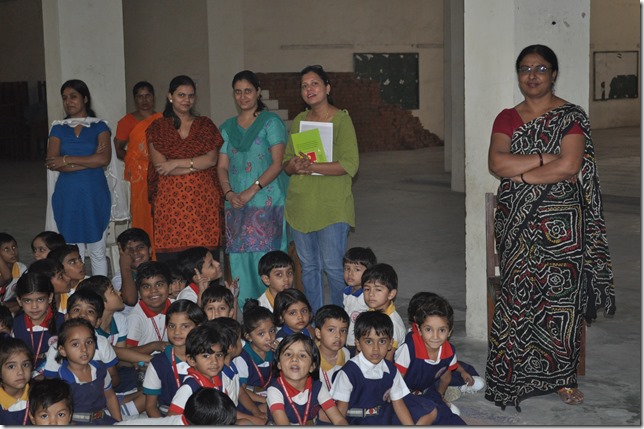 With the teachers at the end of the session.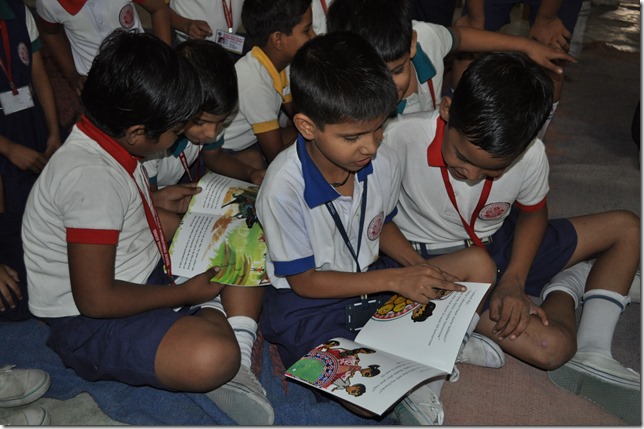 Reading aloud to friends.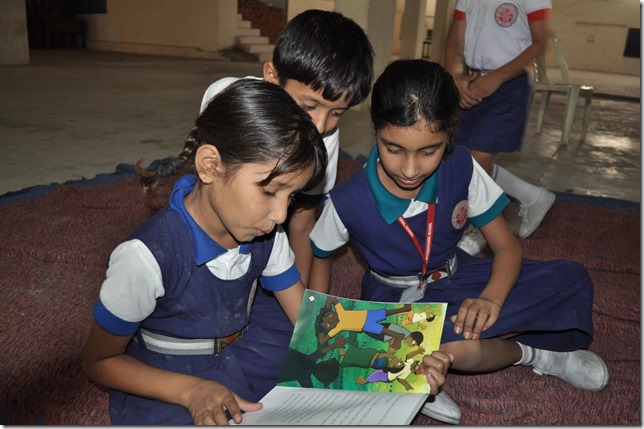 We love reading too!
This story telling session is a step towards sharing the joy of reading. Story sharing is a key activity and a crucial component of a child's development into a mature reader. We should strive to encourage children to read because they 'want' to, not because they 'have' to, thus creating the beginning of a life-long love of books. And as parents and teachers we have a big role in helping them fall in love with the world of books.
Thank you Pratham Books, I am glad to be a part of this journey of spreading the joy of reading!
Thank you Shilpa for spreading the joy of reading!
**********
This International Literacy Day, Pratham Books has taken a 1000 steps towards a 'Reading India'
What started as a small step by Pratham Books to spread the joy of reading has become a movement. Last year Pratham Books initiated the One Day-One Story initiative on the occasion of International Literacy Day and we conducted over 250 storytelling sessions. This year we are delighted that
over a 1000 sessions are happening
across the length and breadth of the country.We will be sharing the stories of all our champions through our blog.
View more pictures
from the International Literacy Day Celebrations.
This blog contains stories sent in by all our champions. Browse through the blog for more stories. You can also go through the tags on the right side of the blog to find stories happening in your own city.
Note : If any of you want to be a Pratham Books Champion and join us on our journey of getting 'a book in every child's hand', write to us at web(at)prathambooks(dot)org.